Posts Tagged 'So Percussion'
As I left the Crossing Brooklyn Ferry Festival on its closing night, Saturday, May 5, I couldn't escape the feeling that I had wasted so much time—not at the festival itself, but long before.
I had grown up listening to music oblivious to the domineering constructs of ubiquitous genre definition, the invisible architecture of non-substantive taste. I'm not sure which attitude was worse—contented ignorance of how the conventions of constant classification had put unnecessary limits on my musical discoveries, or my more recent belief that the use of genre labels to separate real/perceived differences in music was a necessary evil.
Upon experiencing Crossing Brooklyn Ferry,however— the New York City festival that Bryce Dessner and Aaron Dessner of the band The National were commissioned by Brooklyn Academy of Music (BAM) to curate—genre distinctions emerged more grossly superficial than ever before.
Conceptually, the approach of the brothers Dessner seemed straight-forward and unadorned—invite artists and musicians whom they liked and respected to perform. The performances throughout the three-day festival, which began on Friday, May 3, were distributed among three separate performance spaces at BAM: the intimate Rose Cinemas, which hosted both musical sets and the screenings of nine short films by Bill Morrison, Matthew Ritchie, and others; the versatile BAMCafé, the site of performances by a truly eclectic mix of musicians—the Jack Quartet, Buke and Gase, yMusic, the Brooklyn Youth Chorus, and Oneohtrix Point Never among them; and the Howard Gilman Opera House, which functioned as a "main stage" for such artists as So Percussion, The Antlers, Tyondai Braxton, St. Vincent, My Brightest Diamond, and Beirut.
Above all, the genius of Crossing Brooklyn Ferry was in the logistics. The performances in each of the three venues overlapped with one another, with festival patrons moving freely from one space to the other. By design, one could catch the beginning 15 to 30 minutes of the film screenings, catch the middle of an Opera House performance, and then head upstairs to the café for the open bar and the end of another set.
The formality that audiences may have come to expect at performances by composer Judd Greenstein and The Yehudim, violist Nadia Sirota, the NOW Ensemble, and others was jettisoned. And by having three simultaneous options at any given time, the experience of the listener/viewer felt varied and organic. Yet because all of the scheduled performances are staggered, as opposed to scheduling acts during approximately the same block of times, the festivalgoer had more genuine choices with which to craft an individual experience of musical discovery. Instead of the masses herding themselves from one stage to the next at the pre-appointed time, it seemed impossible that any two people had the exact same experience.
Apart from Bryce Dessner's annual MusicNOW Festival in Cincinnati, the Ecstatic Music Festival, established in 2011 by the above mentioned Judd Greenstein, is Crossing Brooklyn Ferry's most immediate and relevant predecessor. The creative circles of both Ecstatic and Brooklyn Ferry are essentially concentric; several artists, including My Brightest Diamond, So Percussion, Buke and Gase, yMusic, Missy Mazzoli and Victoire, Jherek Bischoff, and Richard Reed Parry of Arcade Fire have contributed to both festivals.
Such artists are inherently uninhibited by the dichotomy of vernacular versus formal, to which I had subconsciously adhered. And both festivals are excellent environments in which to be stylistically unencumbered.
But while each festival begins with the premise "Let's have makers of great music all play on one bill," the central conceits that Ecstatic and Brooklyn Ferry each project to their audiences differ in telling ways. The qualitative difference lies not in the music itself, but in the way the music is presented.
The Ecstatic Music Festival has from its inception clearly delineated which artist was more "classical" and which was more colloquial in each of its collaborative performances: So Percussion with Dan Deacon, Anonymous 4 with The Mountain Goats, composer Rhys Chatham with Oneida, etc.
But the mere acknowledgment of these genre distinctions lend them a validity that I sense is unintended. The result seems to be a contradictory concession of sorts that says using genre distinctions are vital to explaining why genre distinctions are unnecessary. The paradox is typified in the festival website's heralding of "contemporary 'post-classical' music." If labels were truly inconsequential and ultimately irrelevant, there would be no reason to employ them in the setup. Somehow, it undercuts the authenticity and dynamism of Ecstatic, and credence is given to the invisible yet still perceptible wall between classical and non-classical.
The Crossing Brooklyn Ferry Festival seeks to showcase the aforementioned borough's music scene , but makes no effort to address genre at all. This approach suggests a way toward ensuring that the once obtrusive architectural eyesores of musical labels are not merely just invisible, but altogether intangible.
Since January 17, Judd Greenstein's Ecstatic Music Festival has presented New York City audiences with one-of-a-kind collaborations between composers and performers who share the creative impetus to explore the musical environment between the monolith of "classical music" and the divergent "indie" aesthetic which draws from popular music traditions.
But beyond the readily observable stylistic hybrid, what has the Ecstatic Music Festival really been about? This three-part series delves into the seminal influences that contributed to the conception and execution of the festival, and what it means for the dialogue between traditional classical music and emergent compositional styles.
For Missy Mazzoli, composer and leader of the chamber band Victoire, the loft culture is a reminder of the hard reality facing today's composers–the struggle for survival and creative autonomy. "I always go back to Philip Glass–who's one of my mentors," says Mazzoli, "and think about how he was playing music in parks and in art galleries and in lofts; just in unconventional spaces, as much because he couldn't get programmed anywhere else as because it was a cool, interesting thing to do…
My reasoning behind founding Victoire was really because I didn't want to wait around for another group to decide to program my music. I wanted to be able to program a show myself, and decide where it was gonna be, and decide how the audience was gonna experience the music, and to go in there with a solid group of musicians who knew my music really well, and do it. And I wanted to be able to tour like a band. I wanted to be able to play in clubs and bars and art galleries as well as concert halls, and I wanted to make CDs. So all these things become very difficult if you're just writing for an orchestra, and you have to wait for them to clear it with the union, and then decide to put it on a CD, and maybe only put out one CD every five years.
Indie favorite Dan Deacon turned to pop music because of similar artistic motivations:
"When I got out of school, I was like, 'How am I gonna find a 15-person ensemble to learn this symphonic score, and be like, Hey I've got no money, and no audience, and no venue–do you wanna learn this piece and we'll rehearse it every day for weeks and then play it for no one?'" he remembers.
"…So playing basement shows and adapting to the model of the DIY scene and the underground, and working in the noise circuit seemed to make a shit-load more sense than trying to like submit scores to festivals and you know, journals of new music, and stuff like that," explains Deacon. "That just seemed like such a backwards way when my whole goal was to have as many people as possible hear the music I was making."
John Schaefer, a self-described "public radio music journalist" and host of WNYC's Soundcheck and New Sounds programs, has covered New York's new music scene for nearly 30 years, and sees this musical Darwinism as a response to the ever-evolving realities of the recording industry. He maintains that major publishing deals and long-term, major-label recording contracts are no longer realistic goals for young composers. "It's kind of like the big, lumbering dinosaurs are finally dying, and all these nimble little mammals who've been scurrying around underfoot are inheriting the earth," Schaefer says.
Additionally, Schaefer has found that the term "indie classical" is well suited to describe the music these mammals are making. "The neat thing about the term is it sort of indicates that this is music that's being made around the edges, off the mainstream," he points out. "And there's a certain DIY aesthetic that is analogous to what is happening in the world of indie rock, where you have composers taking control over not just the writing of their music, but the recording of it."
Violist Nadia Sirota, who hosts WNYC's Nadia Sirota on Q2, finds "indie classical" less apt. "The term is terrible just like everything else. It's complicated–genre, blah blah blah," asserts Sirota. "I think what people are searching for with that term is allowing classical music, specifically new classical music, to be vibrant and fun and sexy in a way that pop music tends to be."
However succinct or clever, just beneath the surface of the phrase "indie classical" is a classic debate, in which seemingly age-old questions emerge: What makes music serious? What makes music non-serious? What makes something "classical?" What makes it "pop?" Is music both classical and serious, or pop and not serious based on the vibe it gives off, i.e. the stereotypes or connotations associated with it? Or is that determination based solely on what the actual composition process is?
When I posed those questions, Deacon gave a seemingly novel, but clearly nuanced answer:
I think there are even greater questions like, What's so important about being serious? Does being serious about something make it art? Or if you're not serious, it's not art? What's the difference between steak and candy? I think that's one of the main things–is that people consider art music steak, and pop music candy. Where I think to the greater population of the world, I think a lot of people consider pop music steak, and art music salt. I think that cultural divide is changing…There was a lot of weird stuff that started to happen a hundred years ago. Charles Ives and his dad were doing weird, crazy shit a hundred years ago. Satie was doing shit that was weird.
Ecstatic Music Festival: Dan Deacon & So Percussion from Guy Werner on Vimeo.
To hear Missy Mazzoli try and suss out the serious vs. non-serious dichotomy, it's really just academia messing with our heads. "There is this sort of split between serious academic music and more accessible popular music," she explains. "Even if your teachers are accepting of the music that you write…and your peers are accepting of it, there's still this sort of voice in the back of your head that says, Well what if this isn't serious? What if this is frivolous? And it's just sort of all this kind of nonsense in your head that doesn't mean anything once you step out of academia."
Sirota seems to have little patience for this line of analysis, and instead relies on the nature of the music itself to lend validity to her artistic endeavors. "Here's the thing seriously: No matter what the fuck you think about what you're writing, you have to think that music is a form of communication. You're trying to communicate some emotional thing via music, and it needs to reach somebody else at the end of the day.
Ultimately, the dubious nature of the term "indie classical" aside–and all the philosophical cul-de-sacs and nonsensical semantics that come with it notwithstanding–the artists of the Ecstatic Music Festival continue to communicate without sacrificing creative sovereignty. "About ten years ago, we'd probably be called 'crossover,' explains composer and multi-instrumentalist Caleb Burhans. "But that means that we're actually crossing over from something, and I feel that most composers that I'm working with aren't actually crossing anywhere–they're just staying true to what they do."
The Ecstatic Music Festival runs through March 28 at Merkin Concert Hall in New York City (129 West 67 Street). The festival is comprised of 14 concerts, during which participating artists who are "re-defining contemporary music come together for collaborations exploring the fertile terrain between classical and popular music," according to the festival's web site.
Featured musicians include: Nico Muhly with the Chiara Quartet; So Percussion with Dan Deacon; the Bang On a Can All-Stars, performing world premieres by Bryce Dessner, Karsh Kale,and Nick Brooke; Timo Andres and Gabriel Kahane; Nadia Sirota and Thomas Bartlett with Owen Pallett; Sarah Kirkland Snider with yMusic–and many others.
For more about the Ecstatic Music Festival, including ticket information, visit http://kaufman-center.org/merkin-concert-hall/ecstatic.
Note: Because the Ecstatic Music Festival is in large part meant to highlight brand new works that are born from collaboration between artists, for the purpose of these reviews, the focus will be solely on compositions that were premiered during the festival's first week.
With February now underway, it's high time to look back at the Ecstatic Music Festival's opening concerts. The festival actually began with a soft open of sorts– a Monday marathon culminating in the contemporary chamber band Victoire's promising collaboration with the avant-rock duo known as Buke and Gass, a creative partnership that composer and Victoire leader Missy Mazzoli assured me would continue.
But it wasn't until the following Wednesday, January 19, that the festival felt officially "on." The evening featured the Chiara String Quartet, presenting the third installment of its four-part Creator/Curator series, in which the ensemble chooses four American composers to write a new string quartet and then build an evening's worth of music around the new composition.
The featured composer on this night was Nico Muhly, who took the opportunity to shed light on the works of a composer–friend and frequent collaborator Valgeir Sigurdsson–who is known largely for his work as a studio producer. Interestingly, despite having the pretense of a Muhly-centric evening, the works of Sigurdsson were more prominently featured.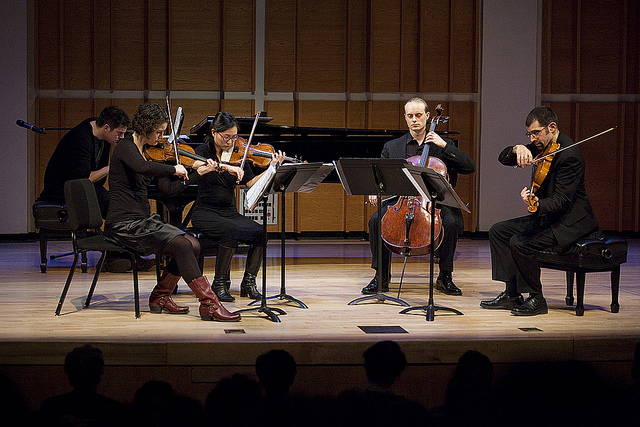 Nico Muhly and the Chiara String Quartet; photo by David Andrako
Especially notable was the word premiere of Sigurdsson's string quartet Nebraska, as the composer was inspired by talk of the "big, open spaces" of the Midwestern state where Chiara is based, and its similarities to the landscape of Sigurdsson's native Iceland. Here the artist paints a distinct landscape, one that sounds like an American's view of the unbridled prairie, combined with some unnamed foreign mysticism arriving on the wind. Sigurdsson is offering us the aural image of an America that has been forgotten, or perhaps has only existed in some idealistic dream. This America is always earnest and true, simultaneously stern and tender, somehow unsullied.
Muhly's new string quartet, entitled Diacritical Marks, proved to be a supremely satisfying work of musical architecture, an eight-movement piece bookended by Debussian pizzicato articulations, col legno technique, and expressionistic hocketing. The odd-numbered inner movements–III, V, and VII–utilized duets to highlight the work's central melodic/harmonic theme. As with several of Muhly's other chamber works, there is an unabated longing, but it is an aloof passion indifferent to anything but itself, seemingly fragmented by an unspoken, torturous loneliness.
As a cohesive concert of music, the programmatic focus on Muhly/Sigurdsson was deeply rewarding, and arguably the most successful of the week.
The very next night, January 20, electronic artist and composer Dan Deacon and the quartet So Percussion collaborated before a sold-out crowd in the world premiere of Deacon's Ghostbuster Cook: The Origin of the Riddler.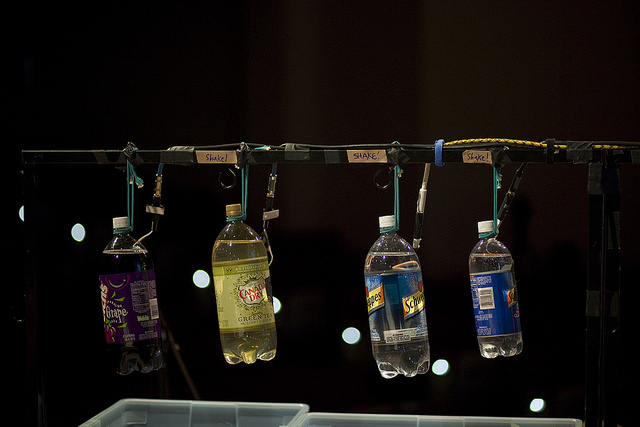 Photo by David Andrako
From the very beginning of this four-part composition for various percussion instruments and electronics, it was clear that this wasn't Dan Deacon as usual. A total of eight unopened soda bottles of varying colors and sizes were suspended from a rig and mic'd. The sound of striking the bottles with mallets was then processed through Deacon's electronics, which resulted in something vaguely resembling gamelan music. In the second movement, the decidedly Asian aesthetic continued with raucous drumming reminiscent of the taiko ensembles of Japan, as Deacon blazed a pentatonic scale-based melody in the electronics.
If I were asked to surmise which group of people was challenged to expand the palette of their musical tastes more–indie fans predisposed to Deacon's idiosyncratic electro-pop, or listeners partial to the avant-garde "new music" of the contemporary classical world–I would have to say the former. Particularly in the third section of the piece, which consisted largely of the soda bottles slowly emptying into large plastic bins, and the accompanying ambient hiss of the liquid draining from the containers, the restlessness of the audience was palpable, and in the case of one listener who asked aloud, incredulously, "Are you serious?"–audible. The fourth movement, which consisted of melodic percussion, did not begin until the soda stopped leaking from all of the bottles. This sense of pacing required a patience I would venture to say most audience members–especially those accustomed to the instant accessibility of Deacon's solo electronic work–were not prepared to exhibit.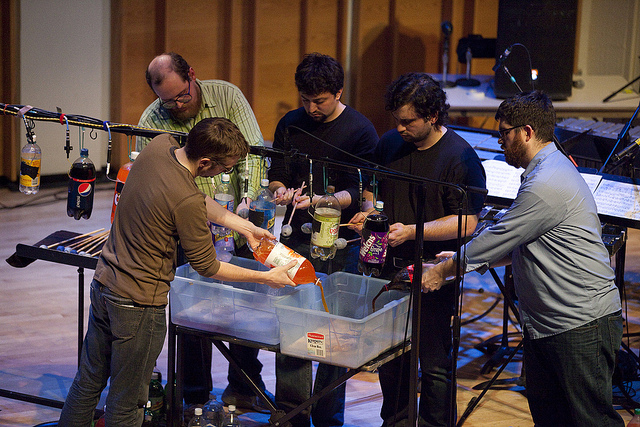 Dan Deacon with So Percussion; photo by David Andrako
While the distinct, one-of-a-kind quality of the performance can't be denied, Ghostbuster Cook at times felt like a piece being workshopped as opposed to a finalized work. This feeling was accentuated by the somewhat simplistic approach to the instrumentation: two sections devoted to the aforementioned bottles, another devoted largely to drums, and still another to vibraphones, bells, and xylophones. That caveat notwithstanding, The Origin of the Riddler is a story I'd love to hear again, and its genre-less musical nature was ideally suited to the ethos of the Ecstatic Music Festival. The complete performance of the new work can be seen here, courtesy of Guy Werner:
The festival's first week closed with the first complete performance of Jefferson Friedman's multi-song work On in Love, featuring vocalist Craig Wedren and the chamber group ACME (American Contemporary Music Ensemble). This collection of songs, lacking an overarching narrative or thematic thread that would qualify it as a song cycle, exists simply as an album of songs. The music is at once modern rock and contemporary classical, and yet neither of those things.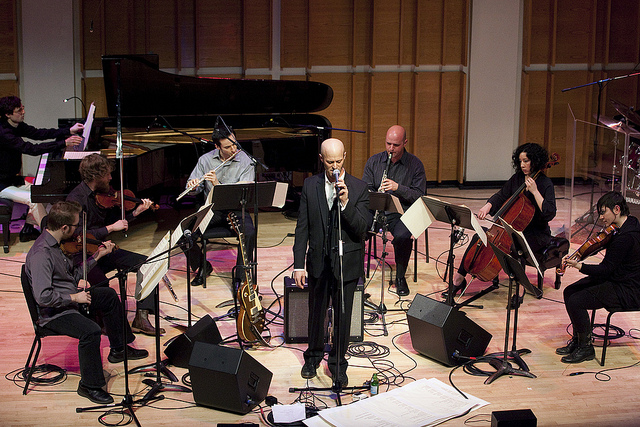 ACME with vocalist Craig Wedren; photo by David Andrako
The first song of the collection, "Warz," was sonically dense, with the strings bathed in distortion and possessing an indefatigable intensity. A dreamlike aura inhabited the collective timbre of the ensemble throughout. Wedren's supremely controlled, pop-inflected vocal delivery–with its engrossing balance of power and delicacy–belied the complex melodic phrases that embedded themselves within the harmonic framework even while moving freely within it. Composer Jefferson Friedman envisions On in Love as a "record," and accordingly, it will be exceedingly interesting to hear how the piece translates in its ideal setting–the recording.
If Ecstatic's first few concerts are any indication, this festival will be too engaging, too thought-provoking, and too musically compelling to pass up.
For more on the photography of David Andrako, visit http://davidandrako.com.